HISTORY OF CAR-GO EXPRESS
Convenience Stores
M
ichael Syndergaard, a Sutherland local, was the founder of Car-Go Express convenience stores. It all started when Mike was slumped in his Sutherland Restaurant one wintery night. He sat alone and watched a gas station down the road as customers came and went despite the freezing temperatures. That's when the idea for Car-Go Express was born.
I wanted to give customers a place to go where the clerks are always friendly and helpful.
Mike opened the first Car-Go Express convenience store in Sutherland in 1982. Mike chose Car-Go Express because he liked the double meaning of the name, representing a place to purchase cargo and a place for a car to go. And the service is always quick.
You have to give good
customer service. It's
something we always
strive and work for.
Mike learned a lot about the business in those early years. Cleanliness was always an important feature to Syndergaard. Another attractive aspect of Car-Go Express was that they always offered a variety of items at prices comparable to general retailers, a service they continue to provide today.
Just because it's convenient doesn't mean it can't be competitively priced.
At one time Mike had franchised over 10 Car-Go Express convenience stores across Northwest Iowa. Today locations remain in Sutherland, Spencer, Le Mars, and Bancroft. Car-Go Express Stores are easily identifiable by the brilliant red, orange and yellow stripes that trim the architecture.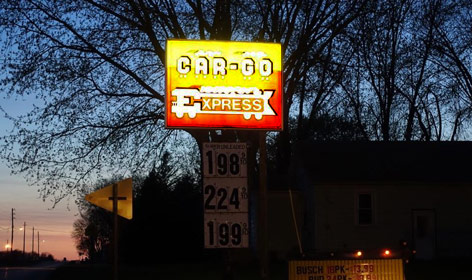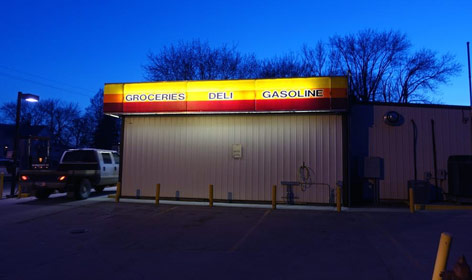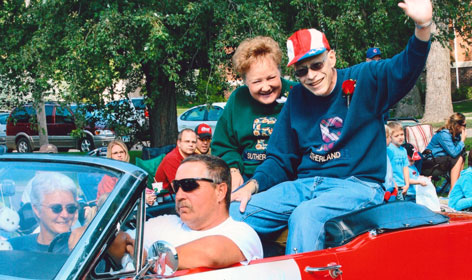 Car-Go Express Sutherland
202 W Southern St
Sutherland, IA 50158
Car-Go Express Spencer
1804 Hwy Blvd
Spencer, IA 51301
Car-Go Express Bancroft
112 N Long St
Bancroft, Iowa 50517
Convenience without the expense.